Tuesday, 11 March 2014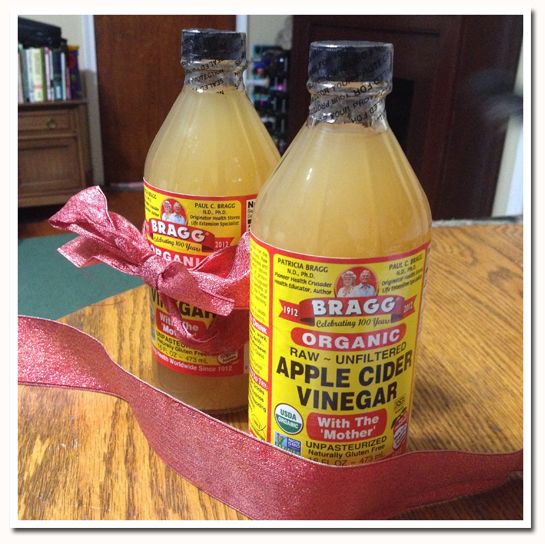 We have recently started taking Apple Cider Vinegar (ACV) every day (I found it helpful with getting rid of my colds) and bought two bottles for give-away. I trust the Bragg product.
Before I list the numerous benefits of ACV, we have to take into consideration the risks of taking it if taken long term.
WebMD
has listed a few:
What Are the Risks of Apple Cider Vinegar?
On the whole, the risks of taking occasional, small amounts of apple cider vinegar seem low. But using apple cider vinegar over the long term, or in larger amounts, could have risks. Here are some things to keep in mind. 
Apple cider vinegar is highly acidic. The main ingredient of apple cider vinegar is acetic acid. As the name suggests, it's quite harsh. Apple cider vinegar should always be diluted with water or juice before swallowed. Pure apple cider vinegar could damage the tooth enamel and the tissues in your throat and mouth. One study found a woman who got an apple cider vinegar supplement stuck in her throat suffered lasting damage to her esophagus. In addition, vinegar has been known to cause contact burns to the skin.
Long-term use of apple cider vinegar could cause low potassium levels and lower bone density. If you already have low potassium or osteoporosis, talk to your health care provider before using apple cider vinegar.
Apple cider vinegar could theoretically interact with diuretics, laxatives, and medicines for diabetes and heart disease.
If you have diabetes, check with your health care provider before using apple cider vinegar. Vinegar contains chromium, which can alter your insulin levels.
But the benefits, I say, is overwhelming.
According to
Reader's Digest
, here are some benefits of ACV.
Helps tummy troubles.
Sip some apple cider vinegar mixed with water. If a bacterial infection is at the root of your diarrhea, apple cider vinegar could help contain the problem, thanks to its antibiotic properties. What's more, some folk remedy experts contend that apple cider vinegar contains pectin, which can help soothe intestinal spasms. Try mixing one or two tablespoons into water, or clear juice like apple juice.
Cures hiccups.
Take a teaspoonful of apple cider vinegar; its sour taste could stop a hiccup in its tracks. One teen took the hiccup remedy further and created a lollipop that includes apple cider vinegar, which she says "cancels out the message to hiccup" by overstimulating the nerves in the throat responsible for the spasms.
Soothes a sore throat.
As soon as you feel the prickle of a sore throat, employ germ-busting apple cider vinegar to help head off the infection at the pass. Turns out, most germs can't survive in the acidic environment vinegar creates. Just mix 1/4 cup apple cider vinegar with 1/4 cup warm water and gargle every hour or so.
Lower cholesterol.
More research is needed to definitively link apple cider vinegar and its capability to lower cholesterol in humans, but one 2006 study found that the acetic acid in the vinegar lowered bad cholesterol in rats. Also, a Japanese study found that half an ounce of apple cider vinegar a day lowered cholesterol in people who participated in the panel.
Prevents indigestion.
Sip before eating, especially if you know you're going to indulge in foods that will make you sorry later. Try this folk remedy: add 1 teaspoon of honey and 1 teaspoon apple cider vinegar to a glass of warm water and drink it 30 minutes before you dine.
Clears a stuffy nose.
Next time you're stuffed up, grab the apple cider vinegar. It contains potassium, which thins mucus; and the acetic acid in it prevents bacteria growth, which could contribute to nasal congestion. Mix a teaspoon of apple cider vinegar in a glass of water and drink to help sinus drainage.
Aids in weight loss.
Apple cider vinegar can help you lose weight. Here's why: The acetic acid suppresses your appetite, increases your metabolism, and reduces water retention. Scientists also theorize that apple cider vinegar interferes with the body's digestion of starch, which means fewer calories enter the bloodstream.
Gets rid of dandruff.
On his website, Dr. Mehmet Oz recommends apple cider vinegar as a dandruff treatment. The acidity of apple cider vinegar changes the pH of your scalp, making it harder for yeast to grow. Mix 1/4 cup apple cider vinegar with 1/4 cup water in a spray bottle, and spritz on your scalp. Wrap your head in a towel and let sit for 15 minutes to an hour, then wash your hair as usual. Do this twice a week for best results.
Clears acne.
Apple cider vinegar makes a great natural toner that can leave skin looking healthier. Its antibacterial properties help keep acne under control, and the malic and lactic acids found in apple cider vinegar soften and exfoliate skin, reduce red spots, and balance the pH of your skin.
Boosts energy.
Exercise and sometimes extreme stress cause lactic acid to build up in the body, causing fatigue. Interestingly, the amino acids contained in apple cider vinegar act as an antidote. What's more, apple cider vinegar contains potassium and enzymes that may relieve that tired feeling. Next time you're beat, add a tablespoon or two of apple cider vinegar to a glass of chilled vegetable drink or to a glass of water.
Cuts down on nighttime leg cramps.
Leg cramps can often be a sign that you're low in potassium. Since apple cider vinegar is high in it, one home remedy suggests mixing 2 tablespoons apple cider vinegar and one teaspoon honey to a glass of warm water and drink to relieve nighttime leg cramps. Of course, by the time you walk to the kitchen to put the drink together, your cramp is likely to be historyóbut maybe that's the point.
Banishes bad breath.
If proper brushing and mouthwash doesn't do the trick, try the home remedy of using apple cider vinegar to control bad breath. Gargle with it, or drink a teaspoon (diluted with water if you prefer) to kill odor-causing bacteria.
Whitens teeth.
Gargle with apple cider vinegar in the morning. The vinegar helps remove stains, whiten teeth, and kill bacteria in your mouth and gums. Brush as usual after you gargle. You can also brush your teeth with baking soda once a week to help remove stains and whiten your teeth; use it just as you would toothpaste. You can also use salt as an alternative toothpaste. If your gums start to feel raw, switch to brushing with salt every other day.
Fades bruises.
Apple cider vinegar has anti-inflammatory properties; dabbing or laying an apple cider vinegar compress on a bruise can help fade the discoloration.
Helps control blood sugar.
A few swigs of apple cider vinegar could help keep your blood sugar levels balanced, according to several studies that have shown a link between the two. One study of people with type 2 diabetes who weren't taking insulin found that taking two tablespoons of apple cider vinegar before bed resulted in lower glucose levels by morning. Another study at the Arizona State University found that insulin resistant people who drank a mixture of apple cider vinegar and water before eating a high carbohydrate meal had lower blood sugar afterward. Scientists think the antiglycemic effect of the acid is the key.
Reduce swelling.
Rubbing apple cider vinegar onto swollen hands or feet reduces swelling. A wonderful thing during pregnancy!
Fight yeast infections.
One of the best home remedies to treat a yeast infection is Apple Cider Vinegar. Add 1 and a half cups of ACV into a bathtub filled with warm water, and then soak in it for about 20 minutes. This should be done once a day for the first 3 days of the infection.
Foot or skin fungus.
Just as ACV can help kill Candida in the body, it is often useful against yeast and fungus on the skin and nails. If you have foot or toe fungus, soak the feet in 1 cup of ACV in water or apply directly to the affected area. For skin fungus or yeast, apply ACV directly. For children or those with sensitive skin, it is best to dilute the ACV with water before applying to the skin.
Hair rinse.
Acetic acid, the main ingredient in ACV, will remove build up from styling products and conditioners and strengthen the hair shaft, leaving you with soft, shiny strands. It will also balance hairís pH level, simulate the scalp to promote hair growth, and is a cure for dandruff. Dilute 1/3 cup ACV in 4 cups of water and pour over your hair after shampooing. Leave it in for a few seconds before rinse your hair using cold water to seal the hair shaft and create more shine.
Facial mask.
Mix equal parts apple cider vinegar and bentonite clay, add 1 tablespoon raw honey. Apply to skin. Leave this detoxifying, deep-pore treatment on for 10-15 minutes before rinsing off with warm water.
Skin toner.
Psoriasis sufferers praise apple cider vinegar for reducing inflammation. Apply a few drops to a cotton ball and rub on your T-zone or other dry spots to prevent breakouts and minimize blemishes.
Soothing bath soak.
The next time you get ready to slip into a warm bath, add one to two capfuls of apple cider vinegar. It draws toxins out of the body, leaving behind toned and moisturized skin.
Sunburn remedy.
Relieve the pain of a sunburn and minimize peeling by applying a wash cloth soaked in apple cider vinegar to the area.
Alleviate age spots.
Apple Cider Vinegar contains sulfur that fights the effects of aging, including age spots. Dab age spots, or liver spots, with ACV every night before you go to sleep. Do not wash off the vinegar. If you feel a stinging sensation, dilute the vinegar with water. Wash off in the morning.
Ease varicose veins.
ACV is great for varicose veins because it improves circulation in the vein wall and helps to ease the bulging and swelling vein so it is less noticeable and less painful. Combine equal parts ACV and your favorite lotion. Apply morning and night to varicose veins in a circular motion until absorbed. Depending on the severity of your varicose veins, you should begin to see improvement within a month.
Natural deodorant.
Most commercial deodorants are antiperspirants, which block your ability to sweat. Since sweat is one of your bodyís natural means of detoxification, blocking your ability to sweat can block your ability to detoxify. ACV absorbs and neutralizes odors. Simply rub a bit of ACV in your underarms. The vinegary smell dissipates once it dries.
Relieve arthritis pain.
The potassium in cider vinegar may be especially beneficial because it works to prevent calcium build-up in the joints, which is linked to joint stiffness.
Improve bone health.
The abundance of calcium, potassium, magnesium, and other vital minerals, makes apple cider vinegar a good candidate for maintaining bone health.
Need I say more?